The Mines in the St. Ives Area That Go Right Underneath the G7 Summit.
It is often said that life's only predictability is its unpredictability. Certainly, we have all learnt many a lesson from 2020. However, with news that the 47th G7 summit will be held in Cornwall, we have a lot to look forward to.
It's now popular gossip in Cornwall to speculate on the ins-and-outs of the conference, but we do know a few things. St. Ive's Tregenna Castle – an 18th century manor house – will host guests, and international journalists will work from the Falmouth Maritime Museum. We have also heard that Carbis Bay is "the perfect location" for the summit. However, Cornwall's rich mining history could pose a unique security risk.
We might not so easily guess today that, amongst the shops, hotels and Airbnbs, Carbis Bay was once host to a vibrant mining industry rivalling in many ways that of Camborne or St Just. These were the times of the real-life Ross Poldarks (Winston Graham took his inspiration from the St Ives area!), but the historical truth is not nearly so romantic.
Records in the British Library suggest a rich mining district had been established by the 1520s, however evidence of even more ancient providence can be found in local place-names. The Stennack in the heart of St Ives literally means 'the Place of Tin', and is at least 700yrs old. The earliest origins of mining here may be forever unknown to us, but we can be sure that most of St Ives and Carbis Bay's workings went entirely unrecorded.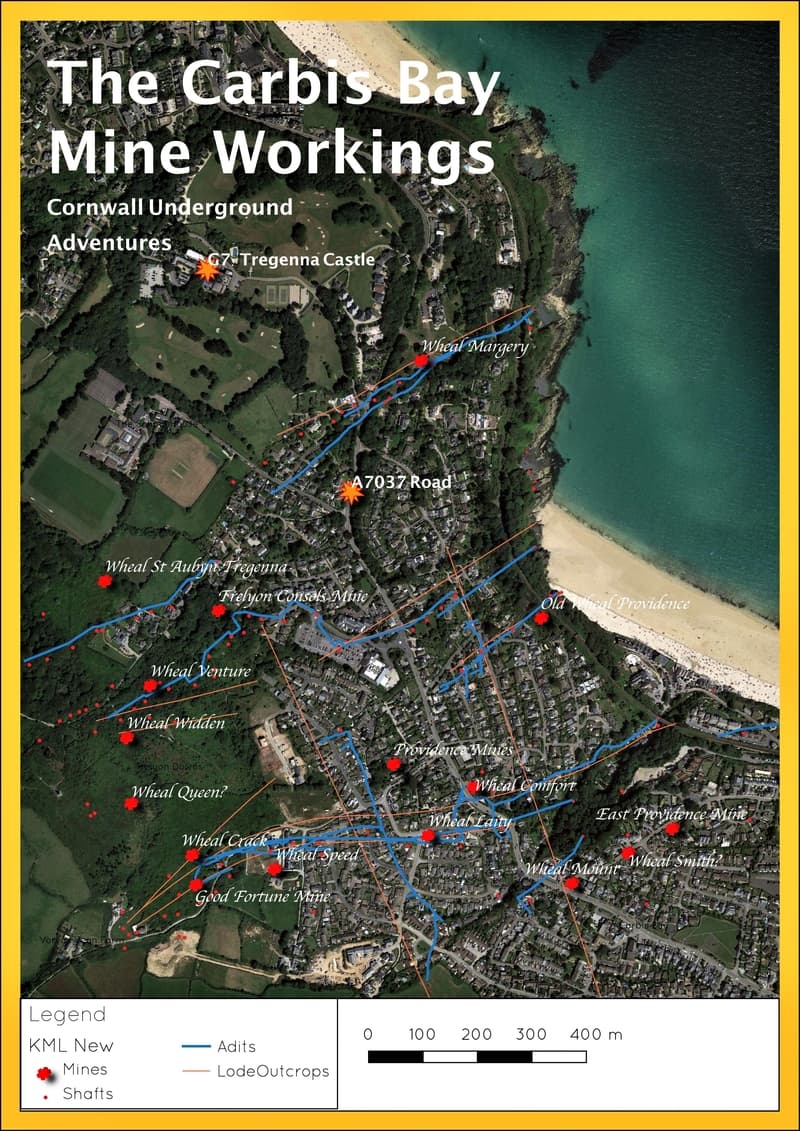 Prosperous Mining in Carbis Bay in the 18th and 19th Centuries
During the 18th and 19th centuries Cornish mining experienced the industrial revolution on an unprecedented scale. Many maps from this era survive and give us a fascinating glimpse into what lies hidden just beneath the surface.
And indeed, Carbis Bay may as well as have been inspiration for Ross Poldark's Wheal leisure itself. To the Victorian traveller, a scene of utmost desolation and rude industry would've presented itself. A remarkable hustle and bustle of horse drawn carriages ferrying ore and other mining surpluses would have dominated the narrow streets, save only for if they had yet existed; for back then, Carbis Bay was largely rural. Billowing plumes of smoke would have issued from the dozen or so engine houses which once worked this barren landscape and the general cries and communications of workmen would have echoed across the neighbourhood.
These poetic descriptions aside, we must not forget that this was only that of the laypersons view. For of course, the mines themselves, both those of tin and of copper – the two most Cornish of minerals – were wholly deep underground.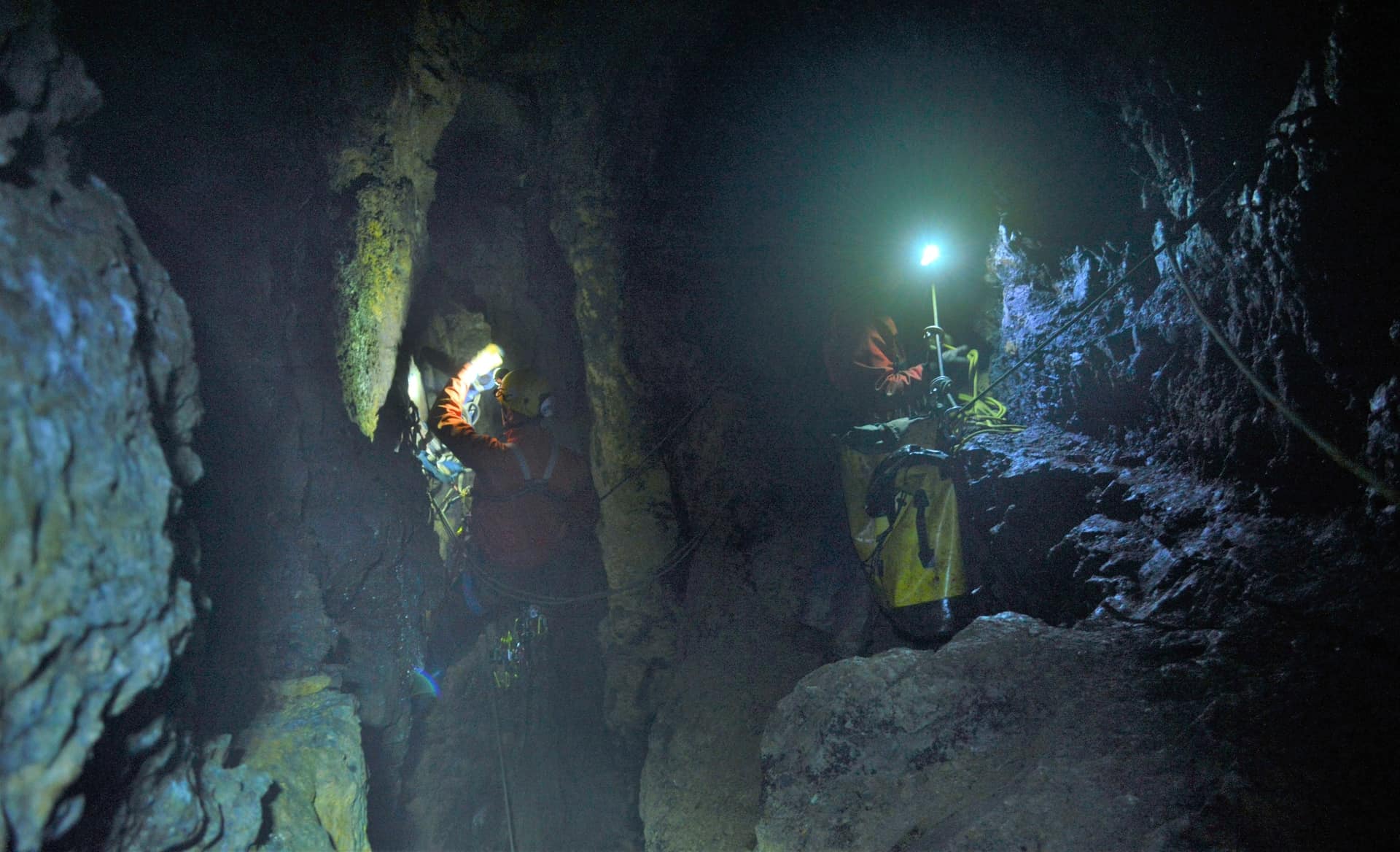 Carbis Bay's Forgotten Underground History
Over the two and a half centuries of underground mining, the Cornish dug many 10s of miles of subterranean passages, some even extending beneath the very seabed itself and into the open ocean. They returned many tens of thousands of tons of rich ores, and even a hundred years or more later, this legacy defines intimately what Cornwall means to the world today.
Few features remain in Carbis Bay to remind us of these great times of trial and tribulation. However, the many ancient galleries, mine shafts and tunnels still remain quietly and secretly hidden beneath the surface, right below our feet. Those who have bought a house in an old mining area in Cornwall will know the difficulty in ascertaining a mine search prior to conveyance. Every so often we are indeed reminded of how essential a process this is, when news breaks of another mineshaft opening beneath someone's garden or even their living room! This has happened a number of times within living memory for most Carbis Bay residents, for example at Carninney only a few years ago.
These are however, but mere glimpses into the true extent of this forgotten world that still remains underground and accessible. Many tunnels are visible for all to see by the beach or along the coastline. Some of these offer a wonderful and rich insight – through safe mine exploration with proper equipment – into all that now remains of these prosperous times.
Wheal Margery - Carbis Bay's Most Impressive Mine
Wheal Margery was a most impressive mine with a most unusual story. Workings date back to at least the 1740s – very early for underground mining in hard-rock – and stretch right through until the 1880s. The mine was originally worked for tin, in a fashion from the surface down, by sinking frequent narrow shafts and removing the ore in narrow galleries or 'Stopes'.
Later workings grew deeper in search for copper and even went beneath the very seabed. Today it is possible to enter the mine's workings near Knill's Monument at the top of Carbis Bay and exit through the sea level adit of Wheal Margery, having crawled and abseiled your way right beneath the main St Ives road and the Treloyhan Manor House. One of the old mineshafts even exists beneath the Old Lodge House at Tregenna Gate, and another opened up in the middle of the road only a few years ago. Potentially, those with the right equipment could venture right beneath convoys of approaching diplomats and international elite.
And these are by no means the only workings accessible beneath Carbis Bay. Others such as the famous Wheal Providence also worked extensively beneath the A3071 road, which shall be used to commute to and from the conference in June.
We must ask ourselves, as we embrace the leaders of the seven greatest economies of the world, whether this potential clandestine security threat will be considered? If after all, Cornwall was "the obvious choice" for our G7, will we not forget Cornwall's most famous legacy amidst discussions of tourism and renewable energy?